Rostam Info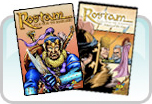 This comic book series is an adaptation of the Shahnameh or "Book of Kings" by the famous Persian poet, Ferdowsi.
Our first series of comic books focuses on the main hero, Rostam a giant of a man, a very powerful fighter, and his many fantastic adventures. Throughout, Rostam shows his strength and skill as a warrior, but also his integrity and loyalty to his country, as he protects and defends it from not only foreign invading armies, but also the constant conniving and betrayals of characters such as lord Afrasiab and an under worldly demon, by the name of "White Deev" (Deev-e Sefeed).
Click HERE to buy this comic!